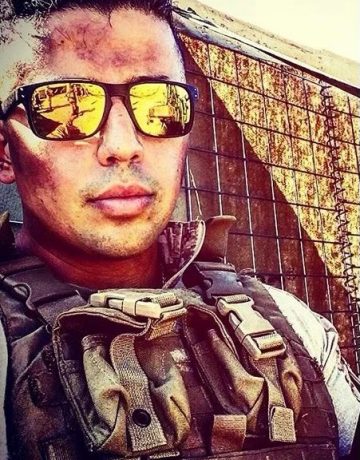 Geovannie Cano
Biography:
Geovannie Cano is a Purple Heart Recipient and retired Marine. Geovannie served in 3rd Battalion 5th Marines during Operation Iraqi Freedom from 2005-2009 as an infantry Machine Gunner.
During combat operations in Habbaniyah, Iraq in June 2006 Geovannie squad was held up in a house fighting waves of over 60 we'll trained insurgents. That eventually led to the insurgents driving a white pickup truck filled with explosives into the entry point leaving a crater 20 feet across and 7 feet deep.
Geovannie suffered a traumatic brain injury with shrapnel in his leg. Geovannie squad carrying him on the stretcher shot their way out of the hell house that endured a four-day assault with thousands of rounds lodged in the house. Geovannie ended up flatlining on the helicopter rushing him to camp Fallujah for emergency assessment.
Geovannie personal testimony was that he experienced a life-changing near-death experience during that assault drove him with a passion to create everything he works on today.
Geovannie also served as a private contractor in Kosovo and South Africa doing anti-piracy operations after his military career.
Geovannie is now a trainer at Ferrera Pan Fitness, filled with passion to help others reach there full potential. Using world experience to build the leaders of tomorrow. He is also a amateur Astronomer and a advocate for the study of space to help others build emotional intelligence and reach optimum health in life. By weaponizing there curiosity with Astronomy and fitness to activate optimum potential in ever dimension of there lives.
Geovannie has created a Comic Book called Quantum Man to share his personal testimony in a fun creative way to motivate others with hope and strength during these unique times in life.