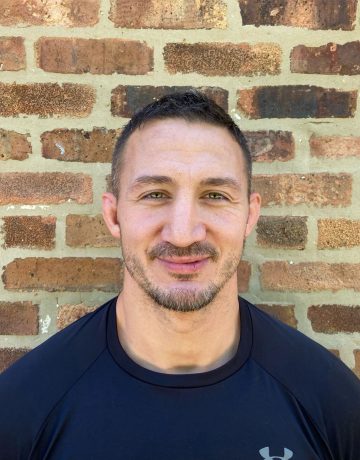 Lukasz Grabowski
Biography:
Lukasz Grabowski is a strength & conditioning, nutrition, and boxing coach. Lukasz has over 15 years of experience in fitness and 8+ years of experience in coaching. He works with various clients, from complete beginners to seasonal athletes.
Lukasz was born in Poland, where he studied nutrition and participated in many sports such as track and field, weightlifting, boxing, kickboxing, and kayaking.
In 2007, Lukasz moved with his family from Poland to the USA. Living in Chicago allowed Lukasz to pursue his passion for fitness and mixed martial arts. Since he was 17, Lukasz has been training in boxing, muay Thai, wrestling, and jiujitsu, and in 2011 he started to compete professionally in MMA.
Now, Lukasz uses his experience and knowledge in fitness and nutrition to help people get stronger, lose weight, be healthier, and develop a healthier lifestyle.
Certifications:
– National Academy of Sports Medicine (NASM)
– Precision Nutrition (PN)
– Nutritional Coaching Institute (NCI)
– Functional Range Conditioning (FRC)
– Daru Strong Mentorship
Experience and accomplishments:
– Former professional MMA fighter
– Jiu-jitsu brown belt
– Personal trainer and boxing coach at Ferrara Pan Fitness Factory
– Online training and nutrition coach
– Fitness Director, kickboxing instructor, and personal training at UFC gym
– Group Training coordinator and personal trainer at Life Time Fitness
– Head Trainer at Burn Boot Camp
– Fitness Instructor at F45
– Personal trainer and group training coach at Pulse Fitness
– Personal trainer, boxing coach, and group training instructor at the Strength Republic
– Former Versace Model
– Speaks fluently in English and Polish
Areas of expertise:
– weight lose
– boxing training
– strength training
– muscle building